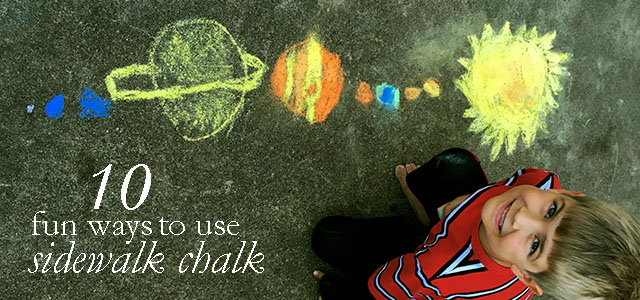 Occasionally, a moment arises when the big kids are done with their school work, the babies are napping, a meal is bubbling away in the crock pot, and the weather outside is perfect.
It's occasional, but it does happen.  🙂
If and when that golden opportunity with your big kids shows itself, I recommend spending some time together outside on the pavement.  🙂  Here are a few fun ideas for keeping it sweet and simple with sidewalk chalk.
Enjoy!
10 Fun Ways For You & Your Kiddos To Play With Sidewalk Chalk
Show The Actual Size Of Gigantic Creatures
This has fascinated my science-loving 5-year-old.  Do a little research to find out just how big some of earth's biggest creatures are:  blue whale, anaconda, brontosaurus, giant squid…etc.  Out in the street or on your driveway, trace the outline of your kid.  Next to that, draw the actual size (I just used lines) of the animals!  Your child will get to see just how big some of God's creatures are!

Illustrate A Short Story
Pick out a short story and draw several key scenes down the driveway.  You and your kids can walk to each scene as you tell the story to them!
Trace Shadows
Find some fun shadows on the ground – trees, light poles, or even your own shadow – and trace it.  This can lead into a fun and educational moment on the movement of the sun!

Make A Parking Lot For All Of Their Riding Toys
My kids love this!  Draw and label parking spots for their riding toys.  The funny thing about doing this is that if you draw the parking lot in your garage, clean-up time at the end of the day suddenly becomes fun. 🙂
Write "Welcome Home" Notes In Neighbors' Driveways
This is a sweet way to teach your kids how to love on your neighbors!  And it doesn't just have to be a "welcome home" message…it could be any encouraging little note that your neighbor will see on their driveway.

Follow A Chalk Trail
Draw a long, squiggly chalk trail all around the driveway, sidewalk, and/or street.  Tell your kids that you are going to hide, and the chalk trail on the ground will lead them to you!  I made this a little more challenging by putting gaps in the trail and by making it go over and under outdoor furniture.
Draw Beautiful "Murals" On Your Privacy Fence
A fun way to spruce up a boring old fence is to draw some chalk murals on it!  We have done the solar system, balloons, animals, and an underwater scene!  It's always devastating for the kids when it rains and their artwork is destroyed…so, beware. 🙂

Draw Animal Tracks
My boys are all about braving it in the wild, and part of that passion includes identifying animal tracks.  Once again, do a little research and find out what different kinds of animal tracks look like.  Draw tracks of several different species out on the driveway and then have them come identify what creatures have been snooping around the house.
Write "Thank You" Notes In The Street For The Garbage Man, Mail Man, And Newspaper Man
This is another sweet way to get the kids involved in loving those around them.  In big letters, write out a "thank you" message to the different services that visit your street.  It's bound to be encouraging to them!

Make A Race Track
Draw the most life-like race track that you can muster up…lanes, finish line, the works!  Invite neighborhood kids to come participate in the First Annual Riding Toy Race-A-Thon!  Kids can use whatever riding toy they want as they race down the street in their lane.
Enjoy your day outdoors!
---
What are some fun ways that you have used sidewalk chalk?
---
Related posts that you might enjoy: