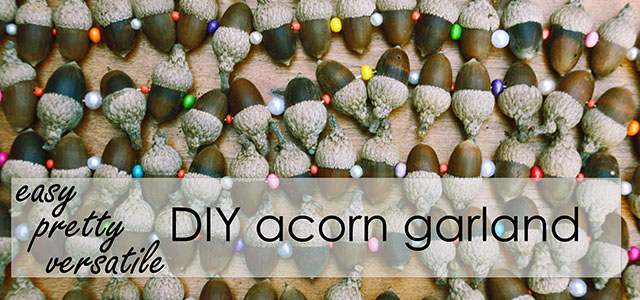 We have an oak tree in the front yard that makes THE BEST acorns.  They are big and fat and they all have those little "hats."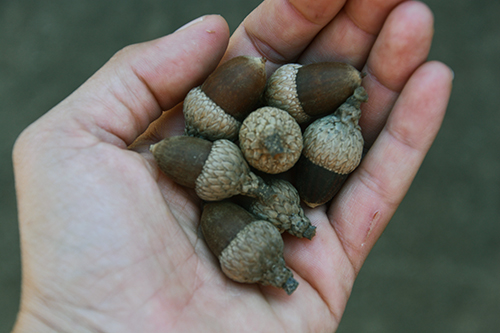 It's like Pinterest is raining down crafty opportunities in my front yard.
I've been gathering the acorns for weeks now…buckets of them…all in anticipation of making my very own acorn garland.
The garland I've been envisioning is simple and versatile.  It could be used to make a wreath, or decorate a mantel, or – in my case – drape on a Christmas tree!  We are going all rustic this year and have decided to make a "nature tree" for Christmas.  Pinecones, birds, popcorn, berries, butterflies, and the acorn garland will be garnishing this year's Christmas tree.
Making the garland is fairly easy, but it is time consuming.  I worked on it for about an hour each day for several days and ended up with enough garland to wrap around our tree several times.
So, here it is!  How to make a pretty and versatile acorn garland: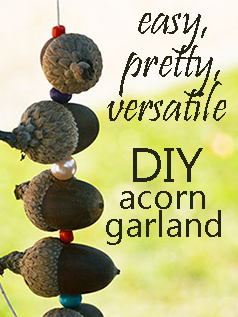 Materials:
Acorns
Hot glue gun
Drill and 1/8 in. drill bit
Strong, thin twine
Small, colorful beads
Directions:
Collect millions of acorns and their little "hats."


Hot glue each hat to the top of the acorn.


Drill a hole through each acorn.


String acorns onto a 4-foot piece of twine, alternating with colorful beads.



Make as many strands as you like!  I made 6.


Easy and beautiful!
---
What would you do with your acorn garland?