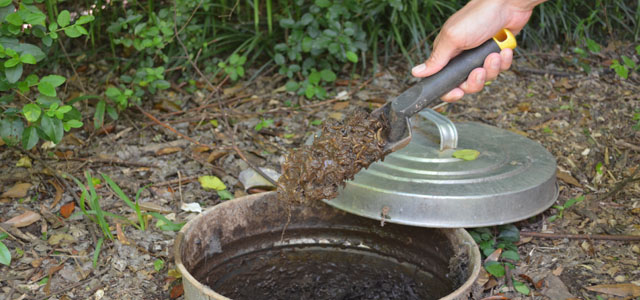 I love my little neighborhood so much.  It's nothing fancy… charming brick homes built in the 1940's and lots of trees.  As delightful as the homes are, it's the people on our street that are truly charming.
Many of the original owners of these homes still live on our street! (remember I said the homes were built in the 40's)  This makes the average age somewhere around 80.
There are so many benefits to living on a "mature" street.  Not only have my two young boys learned what it is to love and serve the elderly, but you better believe that I am picking all of these wonderful people's brains for advice on just about everything.  They have lived well, and are worth learning from.
I have a unique tip for you shared by one of my seasoned neighbors.  This particular man, who lives with his wife two houses down from me, is in his seventies and is my "go-to gardening man."
He has instructed me in everything from planning a vegetable garden according to the phases of the moon, to making eco-friendly pesticides, to identifying good and bad insects!  (Don't worry…all of these fascinating tips I will share down the road!)
So here is the fun and useful tip that he shared with me about a year ago:  how to make a hidden compost pile that is better than any fertilizer that you could ever buy.
First, you will need a galvanized metal trashcan.  Warning: they are very expensive.  I would have liked to have bought a much bigger one, but due to the price, I could only afford a ten-gallon can.
Next, with the biggest drill bit you can find, drill a couple dozen holes all through the trashcan. (Make sure you have a drill bit capable of drilling through metal!).  This is easier than it sounds…I did it all by myself while my husband was at work.
Find an inconspicuous place in the back of your yard, and start digging a hole deep enough to bury the entire trashcan, minus the lid.  You want to completely bury the trashcan, with just the lid sticking up right at ground level.  The holes that you drilled allow worms from the surrounding earth to get into your compost and turn it into fertilizer gold!
Once you have buried the trashcan, start filling it up!  Any peelings, scraps from fruit or vegetables, chicken or horse manure…all of this is perfect to throw in!
I keep a Wal-Mart bag in my kitchen that I toss any peelings or scraps into, and by the end of the day I have a good amount of stuff to add to my compost.  I recommend that for every deposit of either scraps or manure, toss in a scoop of dirt as well.
Within a week or so, your compost should be lovely and rotted and filled with worms!  And the best part is, it's hidden in a buried trashcan!  Use your organic, chemical-free fertilizer in your vegetable and flower gardens…you will be amazed at the result!