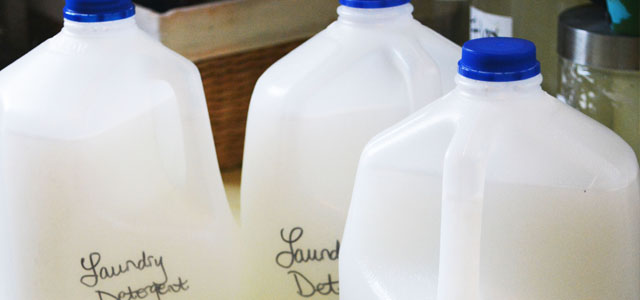 Sulfates, phenols, petroleum distillates…can anyone guess which common household item is comprised of these lovely sounding chemicals?  That would be your typical laundry detergent!
There is absolutely nothing old-fashioned, paranoid, or pig-headed about making your own laundry detergent.  Rather, I believe it is a very economic and healthy decision to make!
If saving money on your laundry bill and avoiding an unnecessary barrage of chemicals on your skin sounds appealing, then check out this incredibly easy recipe for an all-natural laundry detergent!  (Of the two options, liquid or powdered detergent, I make the liquid.)
You only need three simple ingredients to make either a powdered soap or a liquid soap:
Washing Soda (55oz):  the Arm and Hammer brand is found at most grocery stores on the detergent aisle
Borax (76oz):  found at most grocery stores on the detergent aisle
One Bar of Soap:  the unscented Ivory brand works great
Powdered Laundry Detergent:
Grate the bar soap or mix in a food processor until completely ground up.
In a large bowl, mix two parts washing soda, two parts borax, and one part grated soap.  (You can also mix in a few teaspoons of baking soda for extra fresh clothes if you want.)
Keep in a closed container.
For each load of laundry, use 1/8 to ¼ cup.
Liquid Laundry Detergent:
Grate the bar of soap with a cheese grater, or pulse in a food processor.

Place grated soap in a pan with two quarts of water and heat gradually, stirring constantly until soap is dissolved.

Pour 4 ½ gallons of very hot tap water into a five-gallon bucket and stir in one cup of borax and one cup of washing soda until completely dissolved.  (You can get a five-gallon bucket for free in the bakery section of most grocery stores!)
Add the soap mixture from the pan and stir well.

Cover and leave overnight.
Stir until smooth and pour the mixture into gallon jugs.
For each load of laundry, use ½ to one cup per load.
Are you interested in learning how much money homemade detergent can save you??  Check out these calculations!
One box of Washing Soda (55oz) = $3.00
One box of Borax (76oz) = $4.00
One bar of Ivory Soap = $1.00
If you average ¼ cup of laundry detergent every time you wash, this recipe works out to about six cents for each load of laundry.  To wash a load of laundry using a brand like Tide runs you about 25 cents per load!  That's a savings of about 19 cents for each load of laundry you wash!
A penny saved is a penny earned, right?!?
I hope that you are encouraged to try this recipe!  It's so simple, and so clean for you and your family's skin!  Please share any other money-saving homemade ideas!