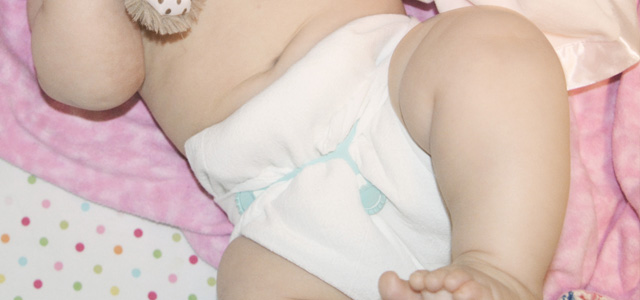 Three words that rocked my cloth diapering world: FLOUR SACK TOWELS
If cloth diapers are like coupons, then using flour sack towels is like triple coupon day.  In other words, I thought I was saving a lot of money by using traditional pre-fold cloth diapers.  But I could have been saving a lot of money times 10 if I had been using flour sack towels this whole time.
Recently, a sweet friend and fellow cloth diaper-er told me about using flour sack towels.  She said that they are really thin towels that you can buy at WalMart, and they work great as a cloth diaper paired with any type of liner.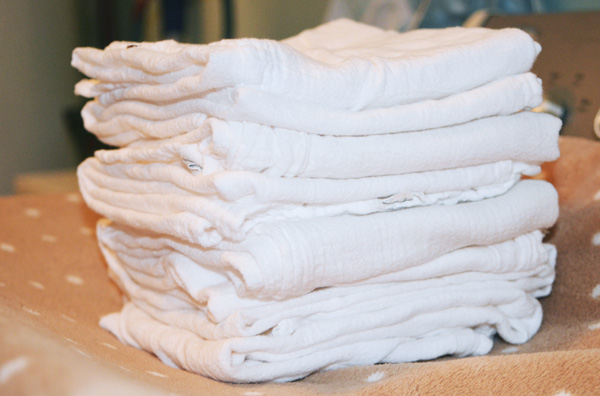 So I bought a few packs and decided to try it out.
At this point, I'm going to break down the price difference for you:
A 5-pack of flour sack towels from WalMart:  $5.00
A dozen pre-folds from Green Mountain Diapers (including shipping):  $45.00
Already you can see that these flour sack towels might be the better option.
Now for the big question…did they work?
Yes Yes Yes!
I paired the towel with an old cloth diaper that had begun to shred, and it actually out-performed my expensive pre-folds!
I also want to save you the trouble I went through figuring out how to fold these gigantic towels.  It took me the better part of a day folding, twisting, layering, and cussing (not really) to finally come up with a workable fold.
And once I discovered it, these towels worked great!
Here's how you do it:
Flour sack towels…who would've thought?!?
They work great and literally save me tons of money on my already-saving-me-tons-of-money cloth diapers…it's like saving money squared!  🙂
Any other revolutionary cloth diapering tactics out there?  Would love to hear!