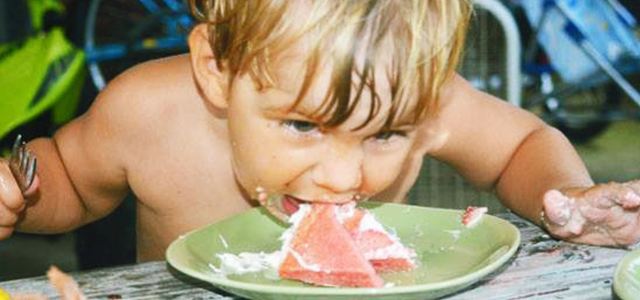 I love birthdays.
I love my own birthday, I love my husband's birthday, and I especially love my kiddos' birthdays.
BUT…
the expectation of throwing a color-coordinated and themed birthday party complete with grab bags worth fighting over and decor that Kate Middleton would be impressed with multiple times a year is, well…not up my alley.  Or up my budget, really.  Or up my "giant" amount of party planning time.  (ha!)
So I've learned to improvise over the years and keep things a little more down to earth.
The result?
The most awesome, one-of-a-kind, never-wanna-leave birthday parties ever!!
(At least that's how I think everyone felt. 🙂 )
So here is a list of 3 of my favorite parties that I've thrown for my little boys.  I hope this takes a little stress off your poor Pinterest-blasted shoulders.
---
Three Ideas For Fun, Do-able, and Non-Froo-Froo
Birthday Party Ideas For Little Boys:
Boxes & Leaves Party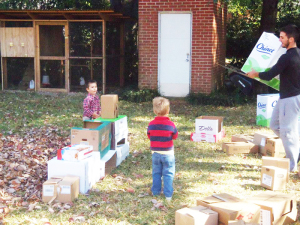 I threw this party for my oldest son when he turned three.  Very simple, very fun, very easy to accomplish.
The party was in mid-November, right when the leaves are falling.  So for a few days before the party I raked and raked and raked.  Eventually I had created every little boys' dream pile of leaves.  Giant.  Full of bugs.  Soft.
The party was nothing fancy.  Balloons were the decor, cake and lemonade were the refreshments, and presents were few.  The highlight of the party was the super fun "boxes and leaves" activity.
Not only had I spent the previous few days raking leaves into a mountain, but I had been frequenting several ABC stores as well.  For the boxes, of course!  I collected millions of boxes.  Big, medium, small…by the day of the party I probably had squirreled away three dozen boxes in the spare bedroom.
During the party, all of the kids stacked the boxes into as huge a wall as they possibly could – the adults even got out a ladder to stack the boxes higher!  And then, on the count of three, the kids would take off running as fast as their short, fat toddler legs would take them and they would burst through the wall of boxes and splat into the ginormo pile of leaves on the other side.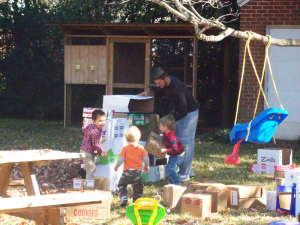 Boxes went everywhere…leaves went everywhere…kids went everywhere…and they did it over and over and over.  Even after 500 run-throughs, the boys still couldn't get enough of the boxes and leaves.
And my gift for all of the parents?  A party that ended promptly at nap time and a three-year-old who was exhausted.  🙂
---
Bug Party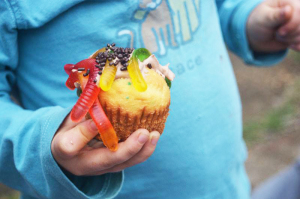 This party was absolutely hilarious, and was totally inspired my son's love of bugs.  Rudy, who was turning four, was (and still is!) completely fascinated by anything that creeped or crawled or stung or buzzed.  So a bug party was definitely in order.
There were several components to this party:
The Decor:
Basically, there were bugs everywhere.  I just sort of tossed various-sized poisonous insects all over the tables.  🙂  I made some of them and bought some of them.  Nothing fancy, I promise.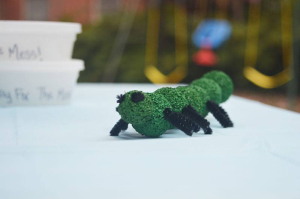 The Craft:
We started out the party with a group craft.  All of the children built their own unique bug by sticking differently sized and shaped foam balls together with toothpicks.  Seriously, some of their creations looked pretty creepy.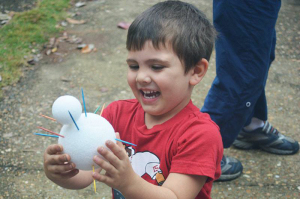 The Cake:
What's a bug party without a good old fashioned dirt cake?  Rather than a sheet cake, though, each child had a cupcake that he decorated himself.  Chocolate frosting topped with gummy worms and "ants" (black sprinkles).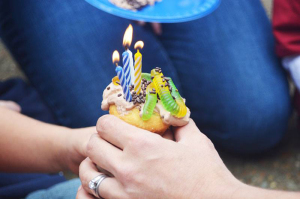 The Game:
Parents totally didn't see this one coming.  I had warned them in the invitation to dress their child in play clothes, so I totally absolve myself of any blame.
Every child was given a mason jar with a lid.  They headed over to a secret area in the backyard where I had covered up a giant metal tub with a blanket.  I told them that since this was a bug party, they had to go home with some live bugs!  Any bugs that they found were to be put in their mason jar.
I whisked off the blanket and, to the delight of ten squealing four-year-olds, there was revealed a giant metal tub filled with dirt and 200 live worms.  I handed them all a plastic shovel and told them to get digging.  What they didn't expect, though, were the crickets that came raining down on all of their heads.  🙂  I had visited a feed and supply store earlier that day and spent $3.00 on 100 crickets.  Pretty good deal.  I figured they would have tons of fun chasing crickets around and stuffing them in their bug jars.
The kids were filthy, they squished tons of bugs in their little fists, and they had a blast.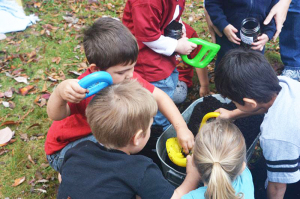 ---
Camping Party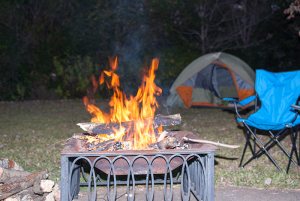 We spent a lot of time camping as a family during the year that Rudy turned five.  So as birthday time approached, it just seemed to make sense that he have a camping-themed party.
The party was a huge hit!
We planned for the party to be right at nightfall.  We had a bonfire (in a fire pit) so that kids could roast their own hotdogs and make s'mores.  There was a real tent set up in the yard, and after the kids ate, my husband brought all of them in the tent for a fun camping story.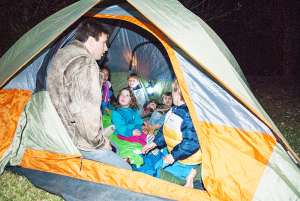 Something about an outside party at nighttime with a bonfire created quite an excitement among the children.  And when I announced that there were nocturnal animal tracks that needed to be followed in order to retrieve the stolen s'mores ingredients, the kids were all ecstatic.  (For the animal tracks, which I said was a snail trail, I ran a thin white ribbon all around our backyard – through bushes, over and under swings, into the treehouse, and down slides.  At the end of the "snail trail" they found all of the ingredients to make the s'mores!)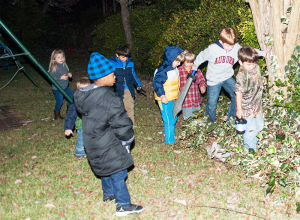 The decorations were, of course, rustic:  red and white checked tablecloths, a birthday sign written in a font that looked like planks of wood nailed together, lanterns for lighting, and lots of "camping food."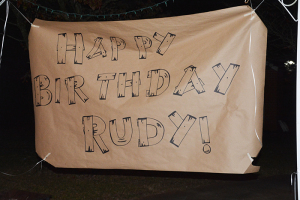 Rudy still talks about his camping party.  🙂
---
If you are like me and don't have a froo-froo bone in your body, here's to all-boy, do-able, all-natural birthday parties.  🙂
My upcoming party ideas include a "food fight party" and a "strong man games party."
---
What kind of birthday parties have you thrown for your own little one?