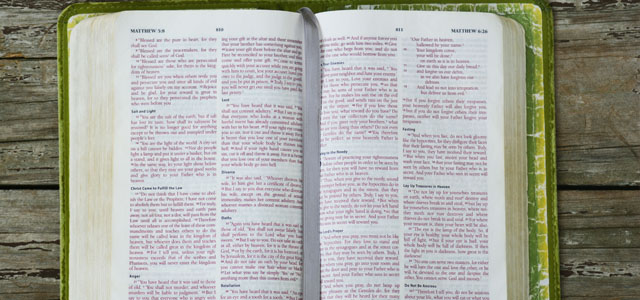 My four-year-old son said something the other day that really shook me up.  Really shook me up.
It wasn't anything that you're probably expecting.
Like, "I want to be a killer clown for Halloween."
Or, "Mom!  I pierced the baby's ears.  But I missed and did her cheeks instead."
Or, "What does the word *insert expletive here* mean?"
No, this was something that slapped me awake.  Slapped me awake out of my self-righteous parenting stupor.
Rudy (the four-year-old) had been acting like a…well, like a four-year-old.  I don't even remember the circumstances…probably something to do with him bothering his younger brother.
What I do remember is seeing this "abhorrent" behavior take place and swooping in to discipline and instruct.
I pulled Rudy aside and began reciting Ephesians 4:32 ("…be kind to one another, tenderhearted…").
It was textbook awesome parenting.  Fight sin with Scripture!  Is your child struggling with bad behavior?  Bam!  Unleash God's Word!
Yes…and no.
About halfway through that recitation of Ephesians 4:32 (and let me tell you, I was using the best gentle/loving/soft voice you've ever heard), he said it.  The words that have since changed me.
"Mom.  I know."
And since I can't really convey tone through a keyboard, allow me to describe his tone to you.
Total exasperation.  Total despair.
How could that be??  How could constantly using God's Word produce such a despair?
I took Rudy's words with me back to my bedroom and thought for a while.  I thought about the how and when and why of my keeping Scripture before my children.
And God showed me something.
It is very simple, but very effectual.
I used Scripture to correct.  I often pointed out to my children where they failed Scripture.  Where their behavior wasn't lining up.  The Bible to them had become a negative pre-spanking tool.
But had I ever used Scripture to point out where they were fulfilling God's law?  God's Word is more than just a tool for correcting sinful behavior…it is also a means of celebrating when our little ones' character does line up with the character of Christ!
I was humbled, convicted, broken.  I don't want to create for my children a world in which the only time Scripture is mentioned is when they are in "trouble".  That sounds like a miserable world…a world where God's law would be despaired of.
So what now?
Well, there is more to Ephesians 4:32 than just reproof and correction, so let's start there since that is where this whole mess began.
"Be kind to one another, tenderhearted, forgiving one another as God in Christ forgave you."
Every day presents so many opportunities to use this verse to not only correct, but encourage my children!
Did Rudy just offer Mark a bite of his mud pie?  He was kind!  He fulfilled God's desire for His people to be kind, just like it says in Ephesians 4:32!
The first time I used Scripture in this way with Rudy he literally lit up with joy.  According to the Bible, Rudy's behavior and heart is just what God wanted!!  It was as if he couldn't even believe it.  I think it's the first time he has ever felt truly connected to God and His Word.  That fact alone makes me cry tears of shame and joy at the same time.
Yes, I still use God's Word to correct and remind, but those same verses are now being used to celebrate my children's victories.  The Bible is breathing life into my home and into my children!  And truly, it is breathing life into me as well.  I can honestly say that it feels good to use God's Word in a joyful manner.
These are some verses that I exclusively used as a "rod".  Now I see that they can be used to praise godly character as well:
Philippians 2:4 – "Let each of you look not only to his own interests, but also to the interests of others."  Has your child allowed someone else to pick the movie, go first, or have the last slice?  They have fulfilled the heart of this verse!  Tell them!
Colossians 3:20 – "Children, obey your parents in everything, for this pleases the Lord."  Has your son or daughter obeyed you the first time, even when it was really hard?  Read them this verse!  They have brought joy to their Heavenly Father's heart!
I Corinthians 13:4 – "Love is patient and kind; love does not envy or boast; it is not arrogant or rude."  It's probably safe to say that this particular verse is tucked away in every mommy's correcting arsenal.  But it can be used to praise the behavior listed in the verse, as well!  When your child is displaying Christ-like love to someone, refer them to this verse…show them, tell them how precious their heart is in that moment!
The Lord has blessed me with three lives, three souls, to tend to.  They are not machines that need to be programmed just right in order to produce a more efficient, more perfect output.  I don't need to treat motherhood that way.
I will probably struggle with legalism and do-goodism for the rest of my life, but I resolve to fight and pray against it hard.
May we (mommies) offer our children the full picture when it comes to God's Word.  His Word that not only reproves, but restores.  Breeds discipline, but breathes life.
"She opens her mouth with wisdom, and the teaching of kindness is on her tongue." Proverbs 31:26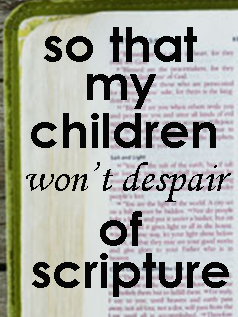 ---
Fellow Mommies, I would love to hear some of your thoughts.  🙂