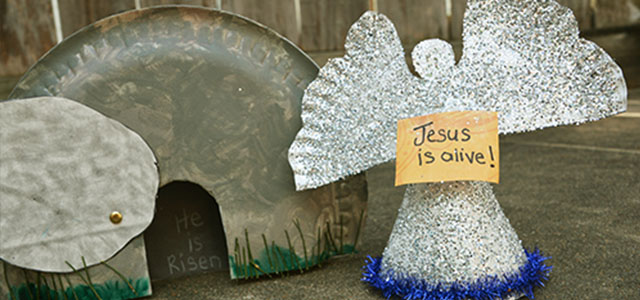 For a Christian, Easter is the biggest celebration of the year.  It is the day that we proclaim Jesus as the Risen Savior…which means that He is who He says He is AND He has secured our future resurrection due to His own.  There is no greater celebration and no greater joy.
To involve my children in the celebration of Easter, we built an empty tomb and angel.  It is the centerpiece of our mantel during the Easter season!  They are proud to proclaim their risen Savior through the displaying of their precious handiwork.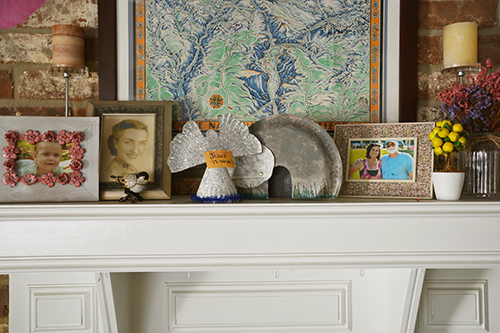 Here's how you make yours:
Craft: Empty Tomb and Angel
Materials:
For the tomb:
2 foam plates
spray glue, scissors
white and gray crayons
gray and green paint, paint brushes
1 brass brad
small piece of white poster board
black construction paper
For the angel:
thin paper plate
scissors, tape, spray glue, stapler
napkins
colorful paper, Sharpie
silver glitter
Tomb Instructions:
Cut the bottoms off both paper plates and then spray glue them together so that they can stand up.  Cut a door in the front of the tomb.


Paint the front of the tomb gray.  We painted some green grass at the bottom, and then we glued real grass on top of the green paint!



On a piece of black construction paper that is cut in a half circle a little smaller than the paper plate, write the words "He is Risen!" in white crayon.  Line the back "wall" of the tomb with the piece of paper.


Once the paint is dry, cut out a circular "stone" out of poster board, color it gray, and attach it to the tomb with a brad.  When you roll the stone away, you can see the words "He is Risen" written inside the tomb!

Angel Instructions:
Draw a line across the middle of a thin paper plate.  On the top half, draw the angel template shown below.  Cut across the line to cut the plate in half.

Using the blank half of the plate, make a cone and staple it together.  Make sure that it can stand up.

Carefully cut out the angel template.

Use the torso flap to connect the angel into the top of the cone dress.  Once secured by tape, I also taped a popsicle stick down the back so that it would stand up straight.


Coat the front of the angel with spray glue and then sprinkle with silver glitter.  (This is the kids' favorite part!)


Make a tiny scroll using some bright construction paper and write "Jesus is Alive!" and trim the hem of the dress with some sparkly blue tinsel.  Glue the scroll to the angel's hands.

Display your angel alongside the empty tomb!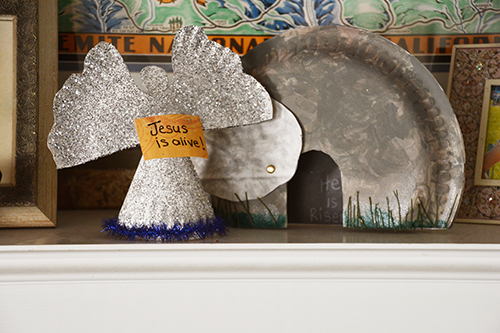 ---
I love what we made!  It's a beautifully childish way of proclaiming the wonder and miracle of Easter.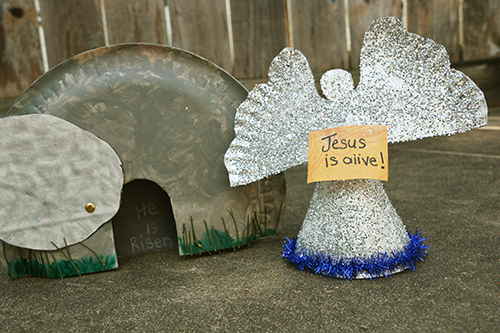 ---
What activities do you do with your children to keep Easter Jesus-focused?
---
A few related posts you might enjoy: